We're now one year into the pandemic and while vaccines are being distributed, many of us are still working from home. Love it or hate it, working from home has its perks, like more comfortable clothing and 24/7 access to our pets but we'd be lying if we didn't admit to missing the office environment sometimes.
If there are two things we've learned from working from home over the past year it's that making the transition to a totally virtual corporate world is possible (without losing productivity) and that nothing can really replace in-person collaboration, although props to Zoom for trying.
The office has always been a great place for collaboration and while it's hard to say exactly what a post-pandemic office interior will look like, there is no shortage of experts from all over the world sharing their predictions online, you'll find some of our favorite articles here and here. We've heard it all, from tastefully incorporating distance markers through out the office permanently to massively scaling back real estate needs and embracing a fully virtual workforce!
In a recent Gallup poll it was reported that most worker (66%) that had switched to working from home during the onset of the pandemic would still like to do so. Which just means that employers will have to embrace a more versatile arrangement. Working from home is great for heads-down type of work, but we see the office playing a more social role by being used for collaborative, brainstorming type work.
So, what does that mean for office design?
With collaboration as the driver of workplace interaction our biggest prediction regarding post-pandemic workplace design is that ancillary spaces will be even more important than before.
Ancillary spaces are considered any space or room that supports the primary function of a building or office, think communal rooms like cafeterias, impromptu meeting breakout rooms, and even outdoor spaces. As WFH becomes more accessible we think the office will really become that hub for creativity and collaboration so office design needs to support that.
Here are a few of our favorite ancillary spaces from 2020 that feature some of our most versatile contract-grade chairs, barstools, and tables.

Showpad Offices, Designed by Eastlake Studio, photography by Kendall McCaugherty © Hall + Merrick | Products: Harper Partially Upholstered Lounge, Harper X-base Barstools
98point6, Designed by Best Practice Architecture, Photography by Rafael Soldi
Products Featured: Harper A-Frame Chairs

Meybohm Plaza, Designed by Cheatham Fletcher Scott Architects
Products Featured: Merano Counter Stools, Brady Chair, Brady Backless Stools
Remerge Offices, Designed by
Product Featured: Merano Chairs, Sadie II Chairs, Rambo Tables

Vans HQ, Designed by Rapt Studio, Photography by Eric Laignel
Product Featured: Brady Tables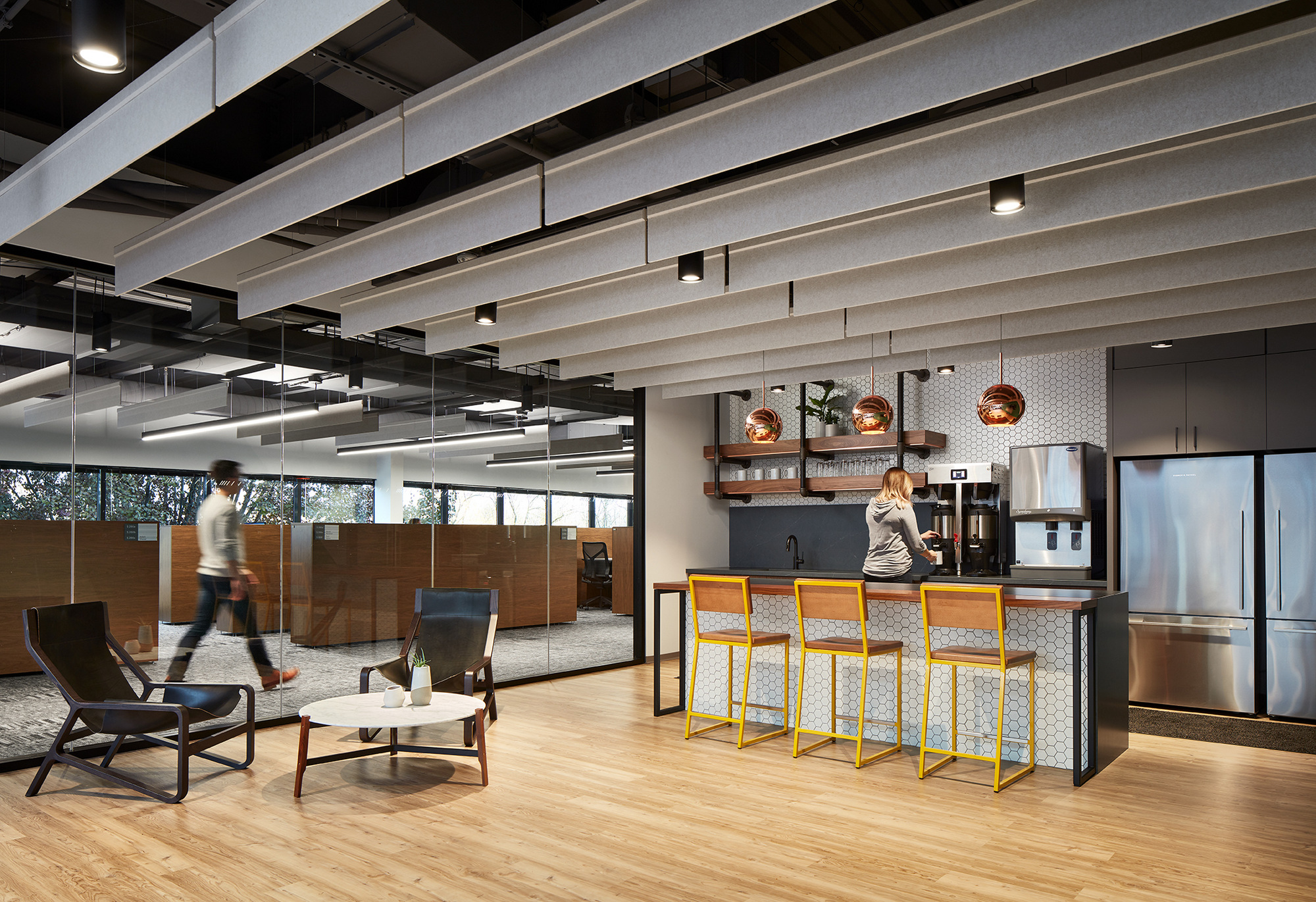 Confidential Client, Designed by Lamar Johnson Collaborative, Photography by Steve Hall© Hall + Merrick | Product Featured: Brady Counter Stools
When done properly ancillary spaces can motivate and inspire employees while simultaneously helping foster communication and collaboration. Since these are more temporary meeting spaces that need to support a wide variety of work styles, don't be afraid to use a blend of seating styles, or incorporate more color in these areas.
Ancillary spaces should be flexible, therefore furniture needs to be lightweight enough to move so that anyone can reconfigure a room on a whim and comfortable enough to sustain prolonged work whether it's a lounge type arrangement or dining table.
Convincing employees to return to the office may be as easy as creating safe spaces conducive to collaboration and team work. What are your thoughts on post-pandemic office design? Let us know in the comments below!